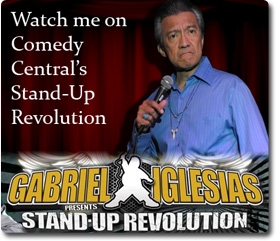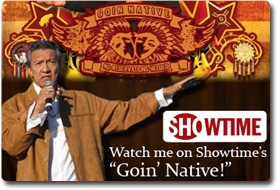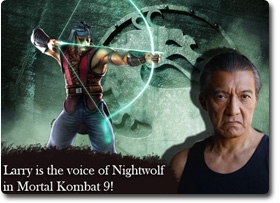 Dec 2017:
This month has me all over the map. Performing for North Hollywood cops at the Ha Ha Club. Then up to Northern Lights Casino in the icy tundra of northern Minnesota. Maybe I'll ice fish, catch me a shark in one of those lakes up there. Then I'm down to New Orleans to board a Norwegian luxury ship for a couple of weeks of joking all throughout the eastern and western Caribbean. Another freaky year has sped by. My calendar for 2018 is already filling up, so, if you want to see me in your area, make the right moves and I'll be there.


Oct 2017:
It's October and its still freakin' hot in SoCal. Fires everywhere. Whew! So glad there is no global warming or it would really be krazy. I'm thankful for the firefighters in my hood who have been kicking fires ass. Come on out to one of my air-conditioned gigs. I will hand out ice cubes if necessary.

Sept 2017:
I'm smoking in LA this month cause its 100 degrees everyday. The only way to cool off is for everyone to head to a comedy club where I'm performing. The Ice House and the Laugh Factory are verrrry cooooool venues. Get your booties up and moving. The Ventura Harbor Comedy Club is right next to the ocean...a sweet breeze. See you freaks soon.

July 2017:
I'm heading up to Northern Cali on July 15 to perform at the Elks Valley Casino. I know they have lots of Tsunamis up there so I'm buying flood insurance just in case. 8pm show. I expect to see lots of my freaky friends.
June 2017:
Its 112 degrees in LA. Brings back boyhood memories of running from coyotes on the Nebraska plains under the baking sun. Great times. Thought for the month: "If you hate Mondays and wish for Fridays, you're in a job you hate. Make the change." direct quote from Larry Omaha.

April 2017:
Boom! 4 months gone already. Performing in San Diego on the 12th to raise money for the Notah Begay 3 Foundation. My third year raising funds for health and wellness education for Native youth. I've been auditioning for various tv and movie projects. Its a crazy life I lead but I really enjoy the daily adventures. I hope to capture a movie role soon. In the meantime I love making audiences laugh. Laughter is my drug of choice.


Jan 2017:
Thanks to everyone who helped me have an incredible December filled with shows all over the country. I made new friends in New Mexico, Arizona, Colorado, Florida, New Jersey and Hawaii. This year is also starting off full speed. Its almost 2018!


Oct 6, 2016:
I'm home in LA auditioning and performing locally. End of September I was cruising the Bahamas. I then flew to Canada to try and halt the influx of illegal Canadians sneaking over the border. Damn Frostbacks!

Sept 13, 2016:
September is taking off full steam. Performed at New Mexico Highlands University in Las Vegas, New Mexico. 3000 jammed into the school auditorium. Then the Fluffy crew landed in Hutchinson, Kansas to take the stage at the Kansas State Fair. Wizard of Oz country is filled with insanity. Then it was on to Los Angeles where Fluffy sold out the LA County Fair Comedy Concert. Performing in front of 8,000 energy-packed fans was mind blowing. It was another highlight of my 37 year career.
Sept 1, 2016:
End of a boiling hot summer here in LA. Fires came to my neighborhood but incredible firefighters fought it back into the mountains. I'll be doing some state fairs with Fluffy this month. Las Vegas, NM, Kansas State Fair and then back home to the LA County Fair in Pomona, CA. Lots of new material, so, come on out and get your laugh on.


July 13, 2016:
5 months have zipped by like the road runner on crack. The bad thing about enjoying your life...it makes life go by too fast. So, I have a solution. Start doing miserable stuff. Date an ugly person with bad hygiene and one night will seem like an eternity. I've been out of LA most of the last few months. More of the same in coming months. Lots of corporate, state fairs and cruise gigs. I hope to see some of my freaky friends on the road somewhere, sometime. Remember the secret to lifelong happiness...set your goals real low.
2/11/2016
: Spent an insane day taping an episode of Fluffy Breaks Even and what made it even better was we taped and ate at Trejos Tacos! That's right, the new restaurant opened by Danny "Machete" Trejo. The baddest and funniest actor in the biz. Watch for the episode soon on the Fuse Channel.
1/26/2016: It's January 26! Wow. Time is flying. It's almost 2017! The new year found me jumping on cruise ships again. I boarded the Carnival Dream and they told me the other comic missed his flight, so, they asked me if I could do 5 different shows in one night. Of course, I told them "Hell yeah! If that's what you need." So for the first time in my comedy career I performed 5 different 30 minute shows in one night. I humbly admit I was fantastic! The rest of the year will be a piece of cake.

12/2/15: Hard to believe but 11 months have scooted by like a rat on crack. The highlight of October was the European tour with Fluffy. Amsterdam, Norway, Scotland, Finland, London, every venue the fans gave us huge energy, laughter, and love. I think we had too much fun and should have been arrested. In November I did a Wisconsin college tour that was kick ass. Great receptive student audiences and great weather. I will finish off the year performing for a banquet of cops and then perform on 3 different cruises.

9/3/15: Alright Kentucky fans, Friday night I'm heading to Berea College in Berea, KY. Sneak into the campus, they don't really care.
Then on Saturday Sept 5 I'll be with Fluffy at the Foxwoods Casino Theater. As always it will be insanity time.

7/24/15: Writing lots of new material. Working out in local LA clubs. On July 17 I performed at the Orange County Fair in the magnificent Pacific Amphitheater. As usual it was sold out, 8,500 Fluffy fans. During my show fireworks started shooting off just outside the performance area. I got some great laughs by interpreting the fire and smoke..."oh look, they're sending signals to my people! ... "Larry! Where are you? Your casino check is ready." In August I will be doing several venues around the midwest. I'll be looking for you.

6/18/15: Recovering from an incredible comedy tour of northern Europe with Gabriel Iglesias. The Scandinavian fans are insane. They filled arenas in Reykjavik, Stockholm, Oslo, Goterburg, Belgium and Amsterdam. I soaked in the Blue Lagoon of Iceland, drove by the numerous hookers of downtown Oslo, traversed the historical streets of Stockholm built by the Vikings and of course I visited the red light district of Amsterdam. It was disgusting. Hundreds of near naked women (all 10's) standing in the windows advertising their physical wares. Disgusting. I hope to return soon.
5/21/2015: Just finished working a cruise from Tahiti to all the Hawaiian Islands. I finally had time to work on my tan. On May 25 I'll be traveling to Viking country with Fluffy's Unity Through Laughter Tour. No sun over there. I'm sure I'll return very pale.

4/12/2015: Performing around LA the past several days. On the 16th I will be at the Northern Plains College Conference in Madison, WI. Then on the 17th I'll be at Madison Square Garden with Fluffy's Unity Through Laughter Tour. Lots of tv auditions lately. Hoping to land another sitcom appearance.

3/25/2015: Tonight I will be on "Hot In Cleveland." Check it out. They should rename the show "Steamy in Cleveland," in honor of my appearance.

3/12/2015: Somehow we're in the 3rd month of 2015. Life is in high gear. I got out of Boston minutes before their insane 100 inches of snow began falling. Toured Iowa with Fluffy in freezing weather. All shows were sold out. Iowans don't care about weather... they laugh at it. March 25 you can watch me on "Hot in Cleveland" on the TVLand Channel. Me and Betty White steam up the screen. April 1 I will be doing a private event in San Diego in connection with the National Indian Gaming Association. April 17th you'll find me on stage at Madison Square Garden! Performing with Fluffy's Unity Through Laughter Tour. New York City watch out!!

1/7/2015: Unbelievable its already January 7th. Time just flying. It's almost 2016! I finished 2014 on a cruise ship in the Caribbean. I think I made lots of people sea sick. I also worked Paradise Island in Nassau with Fluffy and the place is insane. The biggest water park in the universe. Most fun I've had in years.
11/8/2014: On Nov 17 - 21 I will be taping an episode of "Hot in Cleveland." I"ll be working with the finest comic actresses in tv history, Betty White, Wendy Malick, Valerie Bertinelli and Jane Leeves. I am beyond thrilled for such an opportunity.
10/20/2014: My highlight of the year was working on an episode of "The Millers," a CBS comedy show. I was honored to work with the best director in the biz, James Burrows. Google his name and you will see a list of credits directing all the great comedy shows of the last 30 years. What a high I was on all week. Also, meeting and working alongside the hiliarious JB Smoove, Will Arnett, Beau Bridges, Margo Martindale...too damn cool. I get some great laughs with my 5 lines. The show's creator, Greg Garcia, even gave me an extra line for an extra laugh. This was a huge confidence booster for me as an actor. Watch the episode on November 24, Monday night before Thanksgiving.
10/17/2014: For a few days I will be off the road and in the CBS studios shooting an episode of the hit show, The Millers. Working with some of my fav actors, JB Smoove, Beau Bridges and Will Arnett. And the big bonus is being directed by the legendary James Burrows. I'll let you know when the episode is going to air.
9/21/2014: July and August were so hot that I couldn't type. My fingers melted together. In August I performed with Fluffy at the Colorado State Fair in Pueblo, CO. The 7,000 Colorado buffaloes were insane! In September I was back on the high seas fighting pirates. I'm pretty sure they fear me cause they haven't tried even once to attack a cruise ship I'm traveling on. On October 4, I will be at Gettysburg College in Gettysburg, PA. If you live nearby, maybe you can sneak in.
7/13/14: It's been a typical summer. My caucasian brothers and sisters baking under the sun...trying to bronzify their flesh. Its as if they are saying to God, "You messed up! I should be brown." I still prefer the shade of a big oak tree. If you're in So Cal area, come see me at the Ventura Comedy Club July 25-26.
Also, selfies have become epidemic. It use to be that only young women took selfies but now grown men and women take them 24/7. Where will it all end?
5/4/2014: Its party time in San Juan, Puerto Rico! Of course, its always party time in San Juan. Actually its also protest time. I'm sitting in a coffee house in old town San Juan and union workers are marching on the street outside. They are protesting for....something! They should be demanding wider streets. There is barely room for a one healthy booty to squiggle the San Juan streets. Anyway...its all good. Protest is healthy unless the government has no sense of humor and lots of bullets.
4/14/2014: I finished February by getting root canal on a molar and you know what? It was kind of fun. Freaky? Yes. But that's me. I've always had a high threshold for pain. Come on, I was married for 17 years. Most of life is minor inconveniences, so, I just duck down, scoot around and GO! Anyway, catch me around LA for the rest of April. I will be at the Ice House and Laugh Factory.
2/7/2014: We're deep into February, days flying by. Its almost 2015. I worked with Fluffy in January and its always insane fun. His fans are ridiculous. I will be back on the ships real soon. And I will also be entertaining fire fighters of Lemars, Iowa on the 22nd.
1/14/2014: Last year ended with sadness. My friend, Charlie Hill, passed on. He wasn't just a great friend, he was a trailblazing, truth-telling, hilarious comedian. I miss him everyday. I also lost my sister in December. She was the backbone of our family and a good mother to her children. I can't believe these two people are gone but I'm thankful I was able to share many years with them.
11/17/2013: Another month has disappeared in a cloud of kick ass comedy shows. The college kids are hilarious...to me. A few more to go. This weekend I'm performing with the funniest dude walking...Gabriel Iglesias, Fluffy! We are at the Hershey Theater in Pennsylvania. Smoking hot audiences as usual when Fluffy hits town. I will also connect with the Fluffmeister in January.
10/18/2013: Two months have disappeared since I updated this site. I'm in the middle of touring 20 colleges with my Freaks R Everywhere Tour. Check my upcoming events to see if I'm at a college near you and then show up!
8/15/2013: Its been a typical month. I've been working the ships, auditioning and getting rejected for numerous films and tv shows. Rejection is good...it builds character. Right?
7/30/2013: Even in the July heat I still drink hot coffee. Is that freaky? Anyway, look for me in a new horror flick "21 Days" . . . my role as a Navajo interpreter was a serious challenge. My tongue was going crazy, going different directions.
6/13/2013: The Mediteranean gig was mostly cool. Barcelona, Marseille, Rome, Naples and Messina are exciting cities. The buildings are old but interesting; the streets are narrow and dangerous. Lots to see. The food was excellent and the Italian ice cream was the highlight . . . gelati! I ate a couple of gallons of gelati. People park anywhere and everywhere, mostly on the sidewalks.
5/30/2013: May has raced by. Spent a few days annoying the Nassau residents. Worked several gigs around LA. In June I will be doing my first Mediterranean tour. Cruising several cities of Italy,Spain, and France. Fortunately I am fluent in all those languages. I need to brush up on my English.
4/27/2013: My recent trip to the state of Washington is off the hook. The students are giving it up for my ridiculous jokes. And for the first time ever, its been sunshine everyday.
4/9/2013: I am returning to the great northwest, the campus of Washington State University to perform on Friday, April 12. If you're not a student you'll have to find a way to sneak in (not that difficult)...Compton Union, 10:30PM.
4/1/2013: April Fools came too fast. I'm at Cal State Monterey Bay college April 3rd, and then several more colleges in Oregon and Washington later in the month. I've had several auditions lately for movies and commercials but I am on a cold streak. I'm due to book a movie real soon. Showcased for the APCA Conference in Atlanta, GA and picked up a dozen more college dates for the coming months. March is screaming by! I had a fantastic show at Oregon Tech...the Owls were a hoot. February ended with some dynamite shows at Linfield College in Oregon and Ft Lewis College in Colorado! March came roaring in like a kitten. I'm home in LA to recharge my battery. Working the SoCal scene and some colleges most of this month. In February I crossed the Atlantic on a ship with 4 other comics and we gave the ship passengers quite a week of laughs. Got to see a little of Spain. Just enough to make me want to go back and do a complete vacation. 2012 just flew by! Life seems to fly by when you're having fun. My solution to slowing down your life . . . do miserable things. Time will drag. On Nov 16th I showcased for NACA West. College reps from Alaska to Arizona had the chance to see me perform live! I will be performing at numerous colleges in the new year. Recently I flew to Tahiti, then Aruba, then somewhere and then someplace...damn, life is flying by. The hot summer is finally over. My summer was highlighted performing with Fluffy at the San Diego County Fair, 9,000 strong fans of Gabriel Iglesias gave me lots of love. Watch me on Comedy Central's Stand Up Revolution hosted by Gabriel Iglesias. And if you play Mortal Kombat's latest release, I am Nightwolf, shaman warrior. Pretty cool, huh. It has been a freak-filled summer. I survived the Hawaiian Islands, the Mexican Riviera, the Bahamas, the Arizona desert and a big gash in my skull from moving too fast into an open door. I'm a bad dude. Larry's jokes come fast and furious! He hits every topic: stupid stereotypes; wacked out relatives; why Santa avoids Indian reservations. Without using shocking language he will have you in convulsions and tears. Some comics attack their audience but Larry engages his audience and takes them on a roller coaster comedy ride they'll never forget. His unique point of view on multi-ethnic America has garnered numerous tv appearances and places him in great demand on the corporate circuit. His comical stories about his youth are hailed by the Los Angeles Times as, "Refreshing, funny and universal." Omaha's side-splitting jabs at every day life inspired the Las Vegas Sun to label him , "A very hip comic for the the new millennium."